by EMS Preacher
You already know that EMS training is a future-proof business concept and a smart and innovative way of training. But like any business, you need to have a vision and a business plan before you start your investment.
There are a lot of questions that need to be answered, and I truly hope that by the end of the article you will find the solution that suits you best.
Classic EMS business models
COVID-19 and the restrictions implemented by governments have changed the way we invest and look at our business. If you wanted to open an EMS studio before 2020 there were three main business concepts:
Micro Studio or personal EMS service
Shop in shop solution
EMS studios with more than one device enabling EMS group training sessions.
Let's take a closer look at the three classic concepts.
The micro studio or personal trainer business model
All of the ideas mentioned above have pros and cons. For someone new to EMS the best way to start was opening a micro studio. The business is pretty simple, you are the trainer so you don't have to hire anyone. You have the machine and you pay the lease monthly so the initial cost is low.
You don't need a lot of space so you can rent a small studio or a small one-bedroom apartment and use it as an EMS studio. You can also get a mobile device and go to your clients' home. You will save a lot of money on rent but you will spend it on gas and spend more time in traffic, at least in bigger cities.
The shop in shop EMS business concept
The shop in shop solution is very tempting. In some countries you can find EMS studios located insider bigger gyms or fitness studios. The infrastructure is good, you have a lot of space, you have showers, changing rooms, you have a lot of fitness equipment and a lot of potential clients.
The EMS service is operated by a trainer who pays a certain percentage of his income to the owners of the business.
However, you should keep in mind that people attending the gym are not all potential EMS clients. They do like the active lifestyle, but most of them already have a routine that drives them and they will not necessarily switch from conventional training to EMS.
What is more, a lot of the trainers are still not familiar with the EMS technology, which leads to many misunderstandings and devaluating EMS as a training method.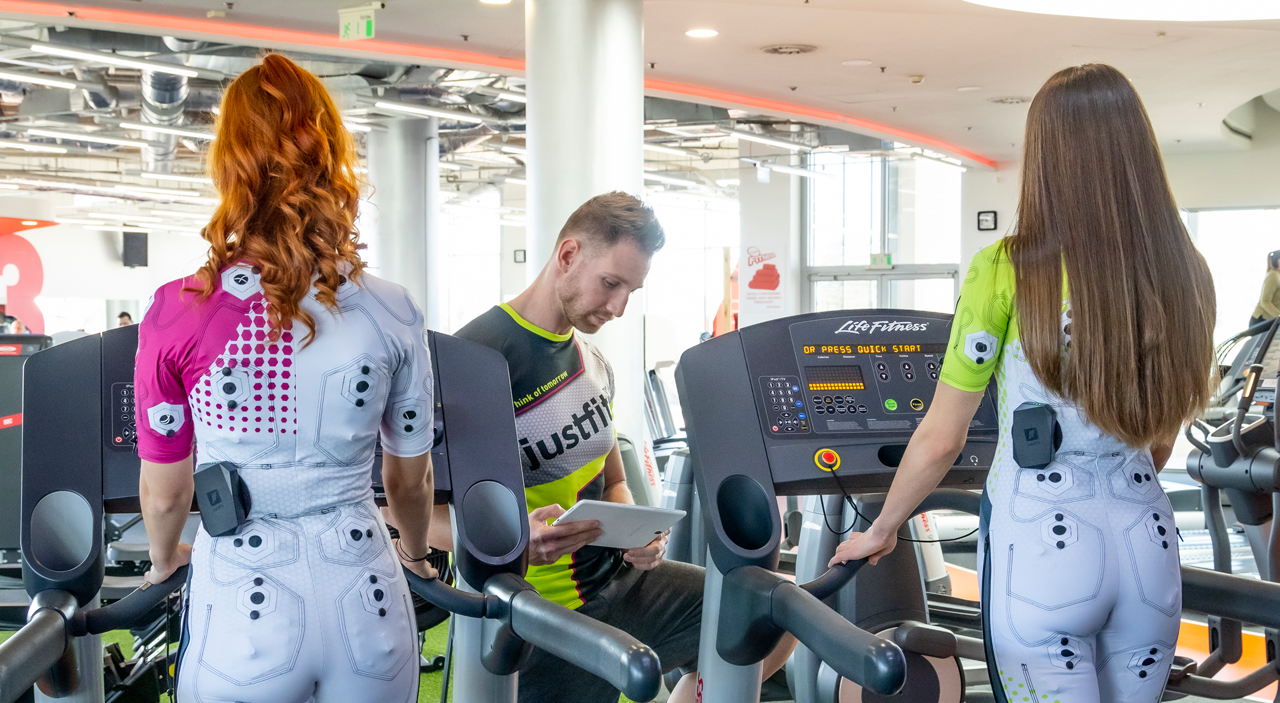 The EMS studio model
Group training was introduced to EMS users a couple of years ago. The fact that you could train a group of people at the same time was a big chance for investors for obvious reasons. A proper business plan will show that you can make six times more money than with a one on one model.
However, you need to remember that the group solution is a much higher initial cost. You need to have a bigger space, changing rooms, showers, and a more expensive device that would allow you to connect multiple users simultaneously.
Pros and cons of different business models
Which concept is the most popular? Which one should you choose when opening a studio today?
The answer varies on the awareness of EMS training in your country. I think it's very interesting that one business model can work perfectly in one country, but be a total disaster in another.
From my perspective the most popular form of EMS business is the one-on-one training. Low cost of investment and the ability to be operated by one person are the most important reasons. The shop in shop solution – which seems very easy and effective – was not at all implemented in my home country Poland because none of the biggest fitness chains were interested in bringing EMS technology under the roof.
As far as larger EMS studios are concerned, most wireless devices these days have the capability of running group training sessions. But due to the fact that this is a totally different business concept with larger infrastructural and significant financial needs, not too many investors decided to open an EMS group training studio – at least not in Poland. What is more, due to the COVID-19 situation this is rather the time for one-on-one training.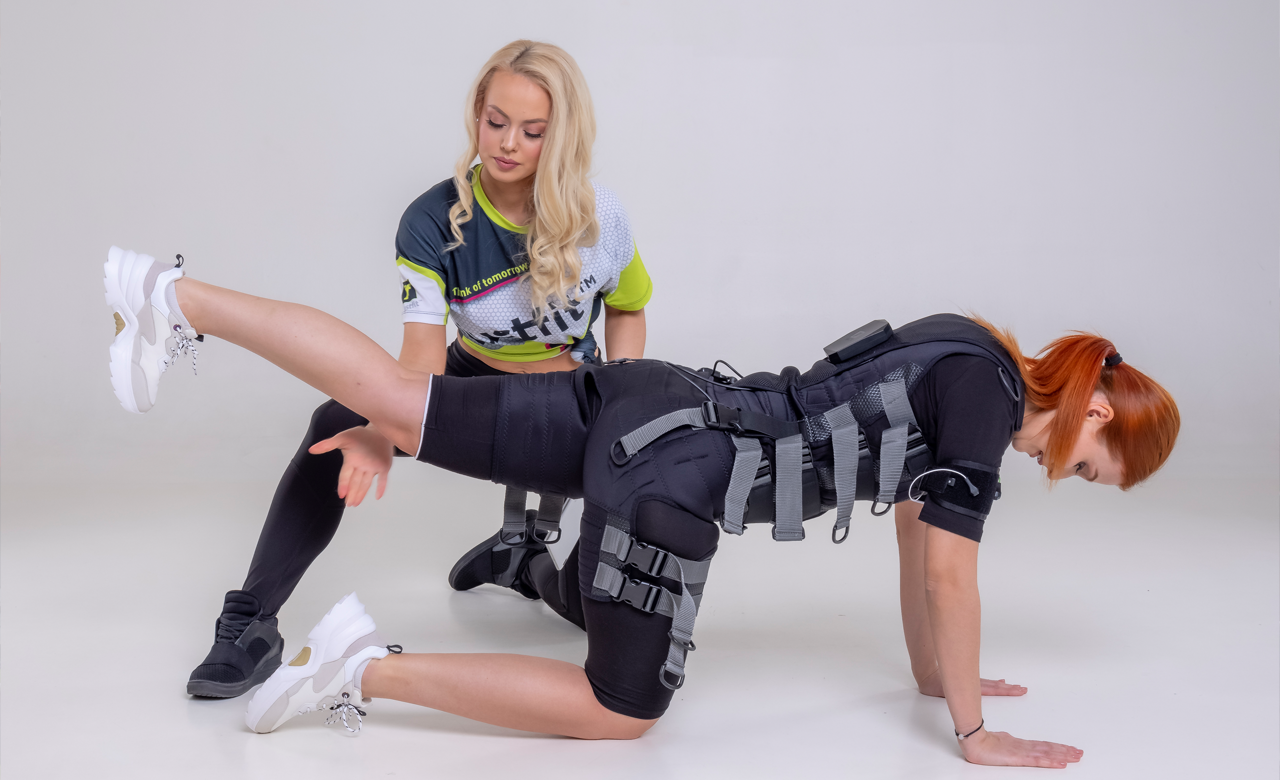 How technical innovation affects the EMS business
I believe that to answer the question we need to take a look at the technical possibilities that modern EMS devices offer.
First of all, most devices work with a wireless connection via Wi-Fi or Bluetooth, which gives a lot of freedom not only for trainers but also for trainees. EMS doesn't have to be stationary anymore, you can combine impulse training with any other physical activity. And an even more important novelty is switching from big heavy devices to tablets and applications.
For many years, the portable version came with a suitcase. You needed a lot of cables, suits and a car to pack everything inside.
But during the recent years, EMS manufacturers have begun developing lightweight solutions. Some companies went even further: Justfit were not only the first company to start using wireless connections and tablets, but they also created a personalized skin suit.
How can we benefit from the development of the technology?
First of all, both the suits and the devices have become cheaper and more accessible for potential investors. Good news, isn't it?
Trainers are able to pack all equipment into a backpack. Being mobile has never been as easy as it is now.
Clients can own the skin suits which means that the trainers need to carry only the iPad and the control unit. Selling the suits as an affiliate partner can mean additional income both for studios and personal trainers.
Even outdoor group training has become possible making EMS a totally unique experience.
In conclusion I have to say that right now is the perfect time to start your EMS business especially with the one on one personal service concept.
Take advantage of the fact that most fitness studios are closed and people still want to train and be active. Take advantage of the new EMS technology that allows you to train wherever you want and keep your studio inside an iPad.
Be flexible. Go lightweight. Go mobile.
Models: Virág Kiss, Éda Oskolás, László Schönekker, Photo: G3 Studio, Location: Victory Fitness